Barely over a decade after Bitcoin's launch, cryptocurrencies have come far enough to attract over 420 million users across the globe. Crypto presents a lucrative investment opportunity that draws in many traders who are not very aware of the technical nuances behind blockchain-powered cryptocurrencies, and they might face some trouble getting started with crypto trading. What can help with lowering the entry barrier for beginners in the crypto space is user-friendly and uncomplicated crypto exchange platforms. 
Why do you need to sign up on a crypto exchange? These exchanges are marketplaces that allow you to purchase, sell, and hold on to crypto to satisfy your various trading strategies. Now, you may find a broad range of crypto exchanges available online for you to choose from, and it's understandably difficult to choose the right one among them. Which crypto exchange would be a good pick for a beginner to the crypto world? Millionero just might be the right answer.
Along with being a beginner-friendly crypto exchange, Millionero makes crypto trading easy for seasoned traders as well. How does Millionero make crypto trading accessible to everyone? Let's find out!
How is Millionero Making Crypto Trading Accessible to Everyone?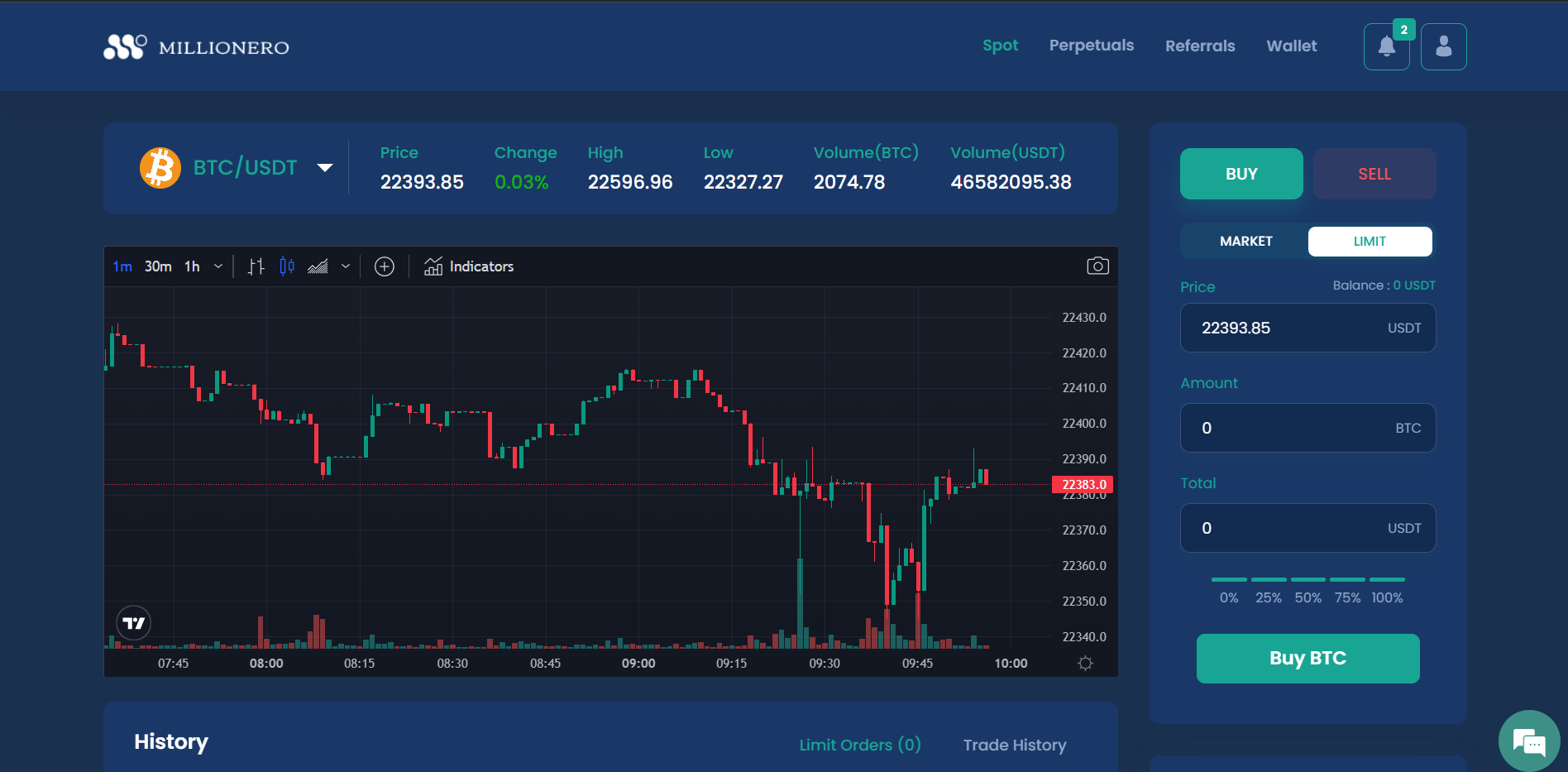 Millionero spot market for BTC/USD
Millionero has an easy and uncomplicated interface that is easy to get accustomed to for new traders (with a simple and short learning curve), and even easier to navigate for experienced traders. Signing up on Millionero through its official website is a quick affair that only requires your email ID and a strong password, and the Millionero wallet allows you several methods of deposits and withdrawals for the utmost comfort with payments, profits, and rewards. 
Further, the spot and perpetuals markets on Millionero come with an uncluttered surface that allow you to quickly look at the key data (such as current price, the highest and lowest prices during your chosen timeframe for a crypto, and the volumes for both cryptos in the trading pair on the spot market, and current price, wallet balance, equity, open profit and loss, and the leverage used in the perpetual market) and make trading decisions with ease.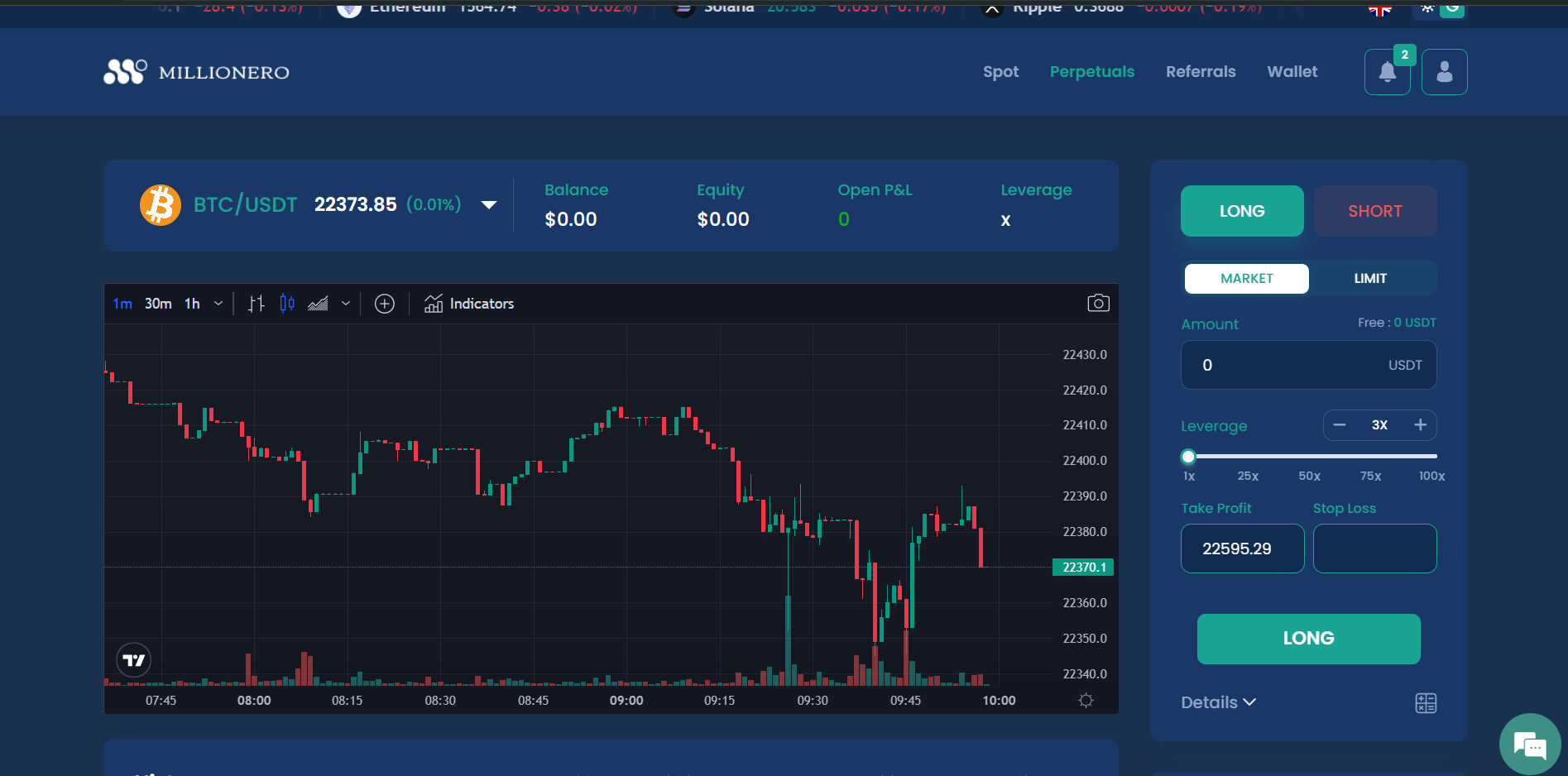 Millionero perpetuals market for BTC/USDT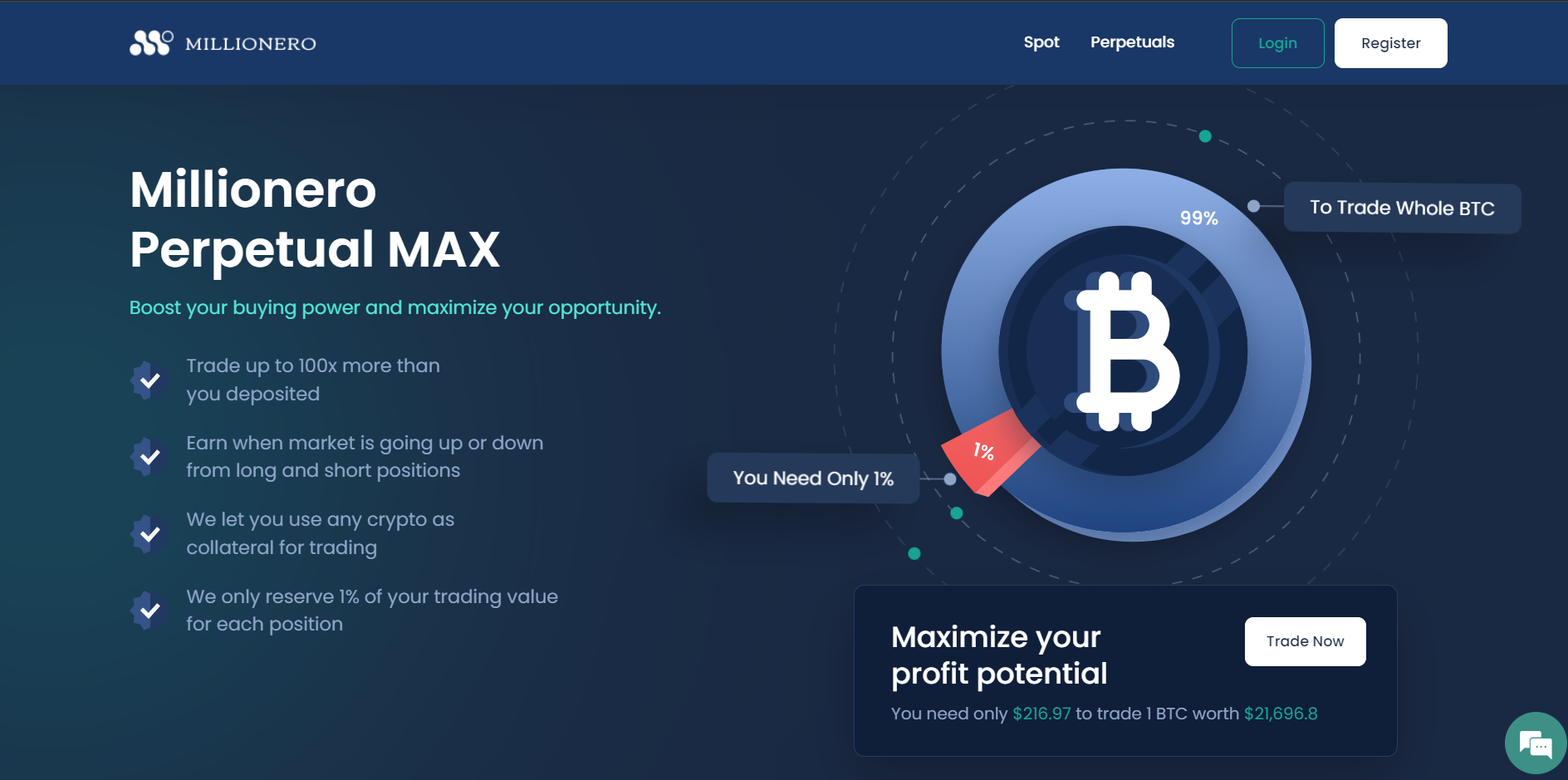 Millionero Perpetual Max
Crypto perpetuals are contracts that allow you to bet on the price of a certain amount of a chosen crypto at a certain point of time in the future, and you are not bound by an expiration date when dealing in a contract like this. Millionero optimizes your crypto perpetuals trading experience for more efficiency with a feature called Millionero Perpetual Max.
Now, how does Millionero Perpetual Max make crypto perpetuals trading more accessible to beginner and seasoned traders regardless of their financial capabilities? Here's how:
Millionero Perpetual Max allows you to take out up to 100x of your initial deposit as a loan from the platform, which is known as leverage. With the choice to access leverage to such an extent, Millionero allows you to take up a position in the crypto perpetuals market far beyond what your initial deposit would allow you.

You can deposit any crypto as a collateral for leverage. While most exchanges only accept collateral in highly liquid crypto like USDT, Millionero stays one step ahead of them in terms of accessibility through Millionero Perpetual Max.

Millionero only reserves 1% of your trading value for every position you take up in the crypto perpetuals market, again magnifying your trading power better than most other exchanges.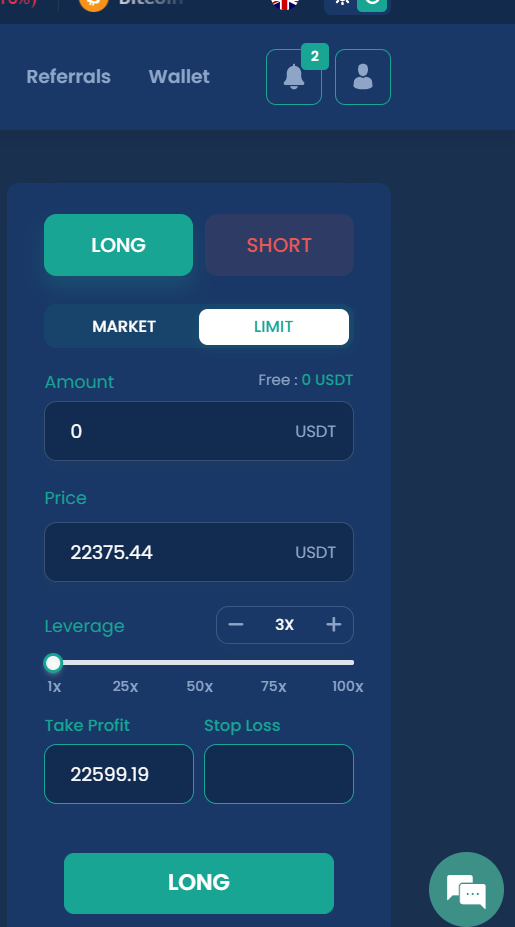 Millionero's default leverage
While Millionero lets you access leverage up to 100x of your collateral, it also encourages responsible leveraging. On the crypto perpetuals market, while you are placing an order, the exchange automatically sets your leverage to 3x, which would be a low amount to borrow. This way, while you can access crypto perpetuals trading easily, your position can also stay relatively risk-free just in case the market moves against you.
Millionero Referral Program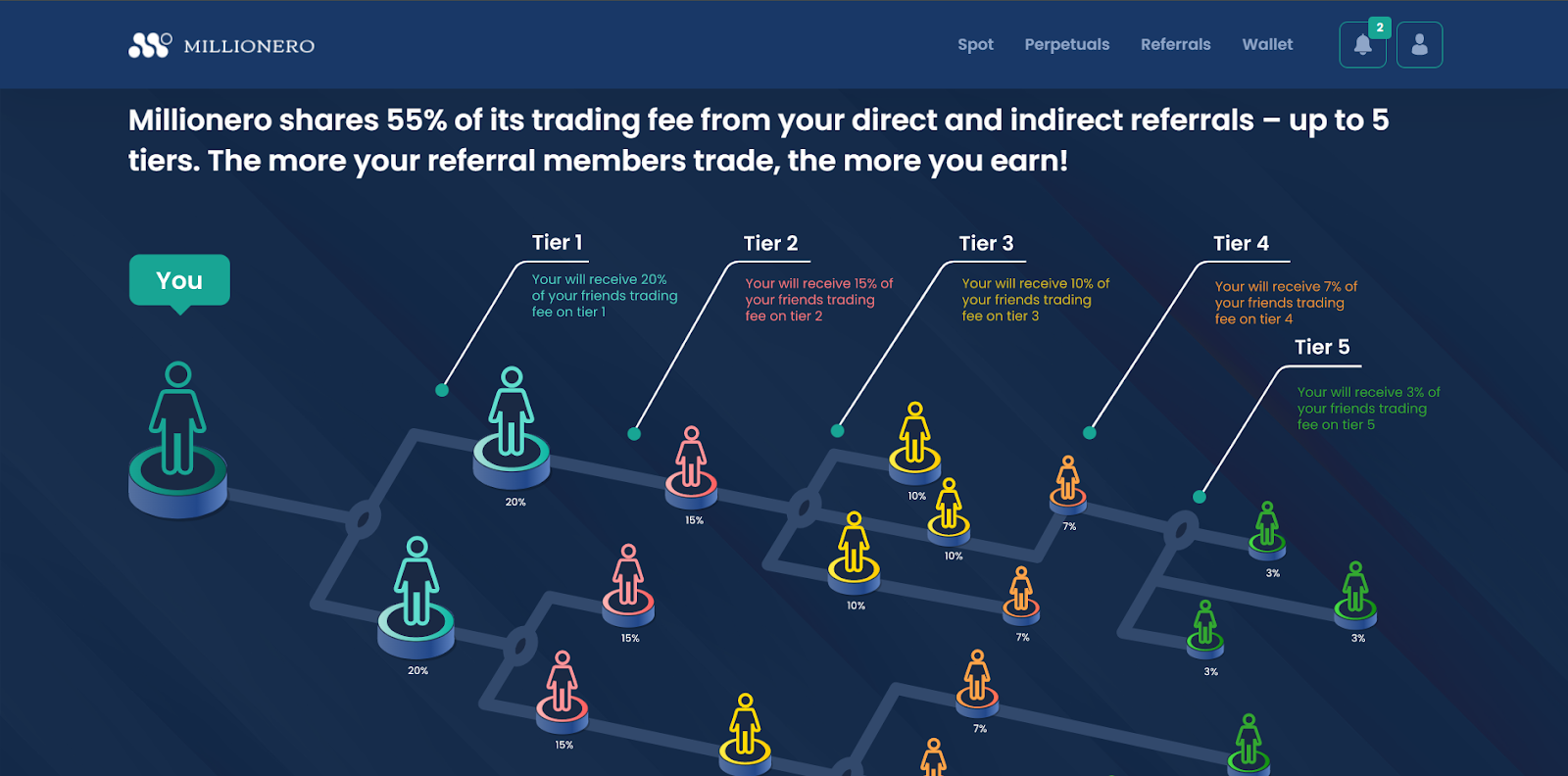 The Millionero Referral Program 
The Millionero Referral Program adds to Millionero's accessibility factor by providing you with an efficient way to earn passive income even outside of your trades. You can invite your friends on the platform and earn a portion of their trading fees every time they make a trade on the exchange. People you help onboard upon the platform can occupy any of the five tiers available on the Millionero Referral Program.
Your direct referrals are added to tier 1, and people they bring on to the platform with their individual codes are added to tier 2 for you. Now, the tier 2 people bring in your tier 3 people, and so it goes on to tier 5. You earn 20% of the trading fees of your tier 1 referrals, 15% of your tier 2 referrals, 10% from tier 3, 7% from tier 4, and finally 3% from tier 5. 
Overall, Milionero shares 55% of the trading fee it accumulates from your direct and indirect referrals with you, which certainly makes it a highly accessible trading platform especially if you are a beginner, since you can earn even while you are learning to trade in crypto. 
Overall, Millionero is a simple exchange platform that offers a range of features which make entry to the crypto space an easy affair for beginners, and also those who can't afford to put a lot of their savings into crypto trades, but still do want to try out crypto trading. 
Sign up on the Millionero official website today to start crypto trading! Further, find them on Instagram, Twitter, LinkedIn, and Facebook for platform updates!