How do you enter the crypto space as a newcomer? Your pro-trader friends may give you a bunch of overwhelming advice regarding which crypto to pick and which trading strategies to adopt. On top of that, selecting a robust crypto exchange to get started with can be a fairly difficult task with all the options available out there. Worry not, though. Millionero may be the one-stop solution to all your needs as a beginner to crypto trading. 
Millionero can help you start earning well right off the bat as you learn crypto trading with time. How does Millionero maximize your crypto gains even as a newcomer? Let's find out!

How Can Millionero Help You Maximize Your Crypto Gains as a Newcomer?
Millionero is one of the newer crypto exchanges that prides itself on being thoroughly beginner friendly. Not only does it provide extensive help to beginners in crypto trading when it comes to making a trade (whether spot or perpetual), it also offers you several tools to maximize your crypto gains even when you lack expertise in crypto trading. How does it achieve that? Let's see for ourselves:
Millionero Offers a Lucrative Referral Fee Sharing Model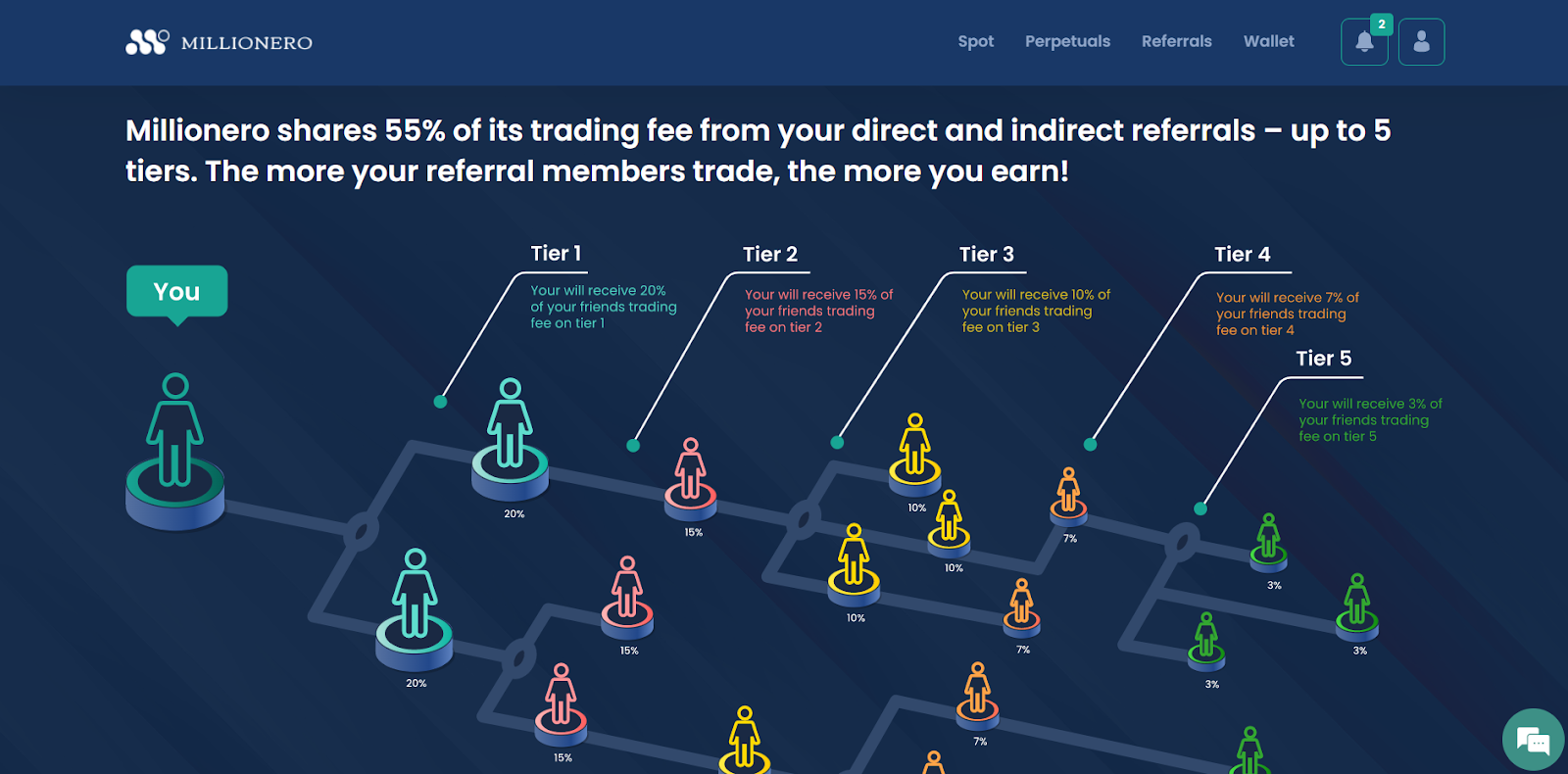 Millionero is a truly unique crypto exchange in that it brings about a referral fee sharing model that shares with as much as 55% of the fee the exchange acquires from your referrals, among other things. Sounds too good to be true? Well, Millionero has already made this a reality.
How does the Millionero referral program work? Once you sign up on the platform, you are provided with a referral code, which you can share with your crypto trading friends to earn from every trade they make on Milionero.
The Millionero referral program has 5 tiers. Every direct referral of yours is a part of your tier 1 in the Millionero referral model. Each friend one of your tier 1 people invite is placed on tier 2 for you. Every subsequent invite from then on is placed upon tier 3, 4, and 5 respectively. 
From tiers 1 to 5, here's the percentage of your referrals' trading fees you earn:
A) 20% (tier 1).
B) 15% (tier 2)
C) 10% (tier 3),
D) 7% (tier 4), and
E) 3% (tier 5).
What's more, the passive income you get to earn from your referrals is limitless- you can invite just about as many people as you want. There's perks in it for your referrals as well. They get an additional 10% discount on spot and perpetual crypto trading fees when they make use of your referral code, forever!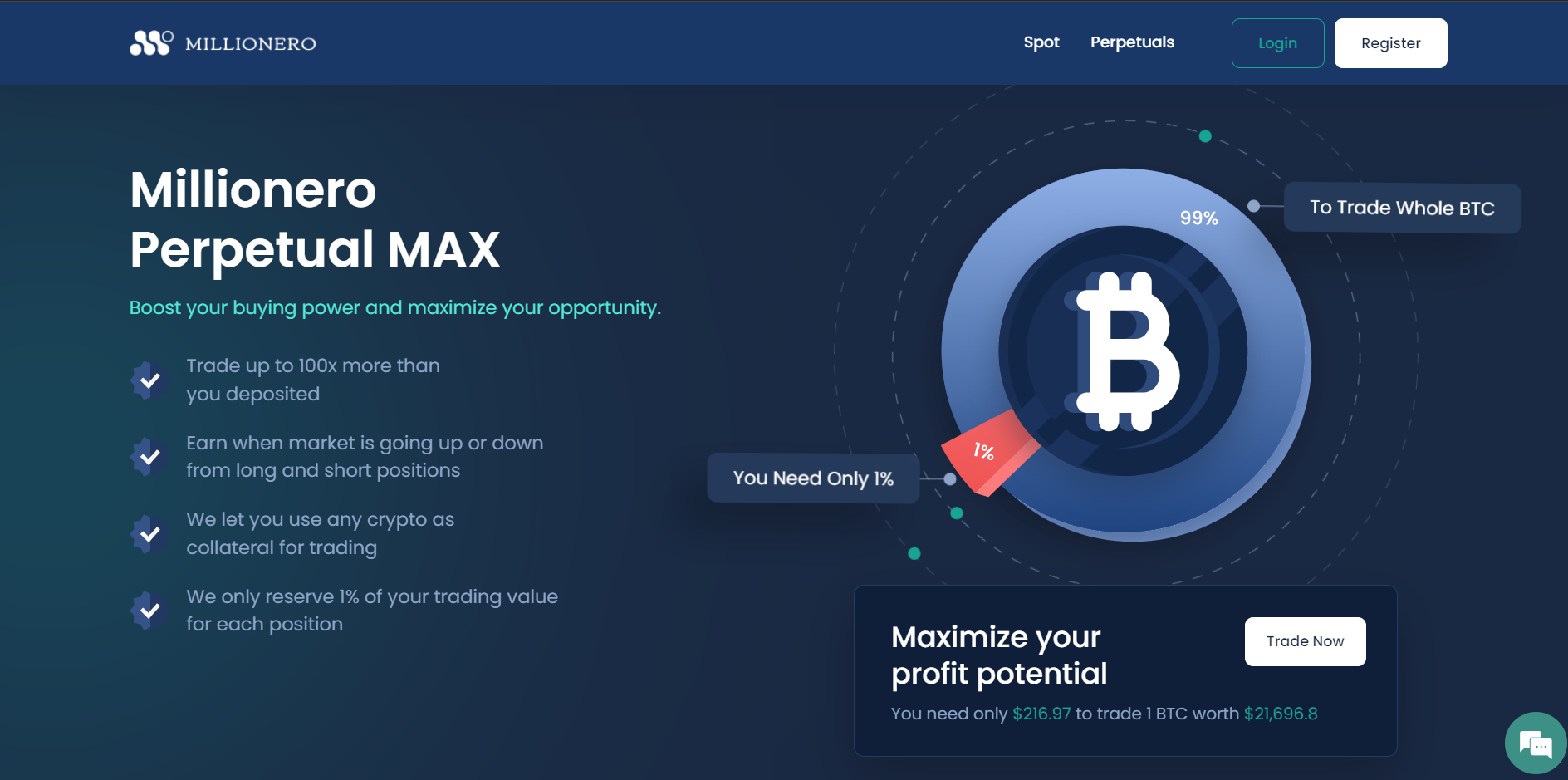 If crypto trading in perpetual contracts sounds more like your cup of tea, Millionero can help you maximize your gains there too. Even if you are a newcomer with very little clue as to how to do perpetual crypto trading, Millionero has a very easy interface for the perpetuals market that helps you out with the necessary information.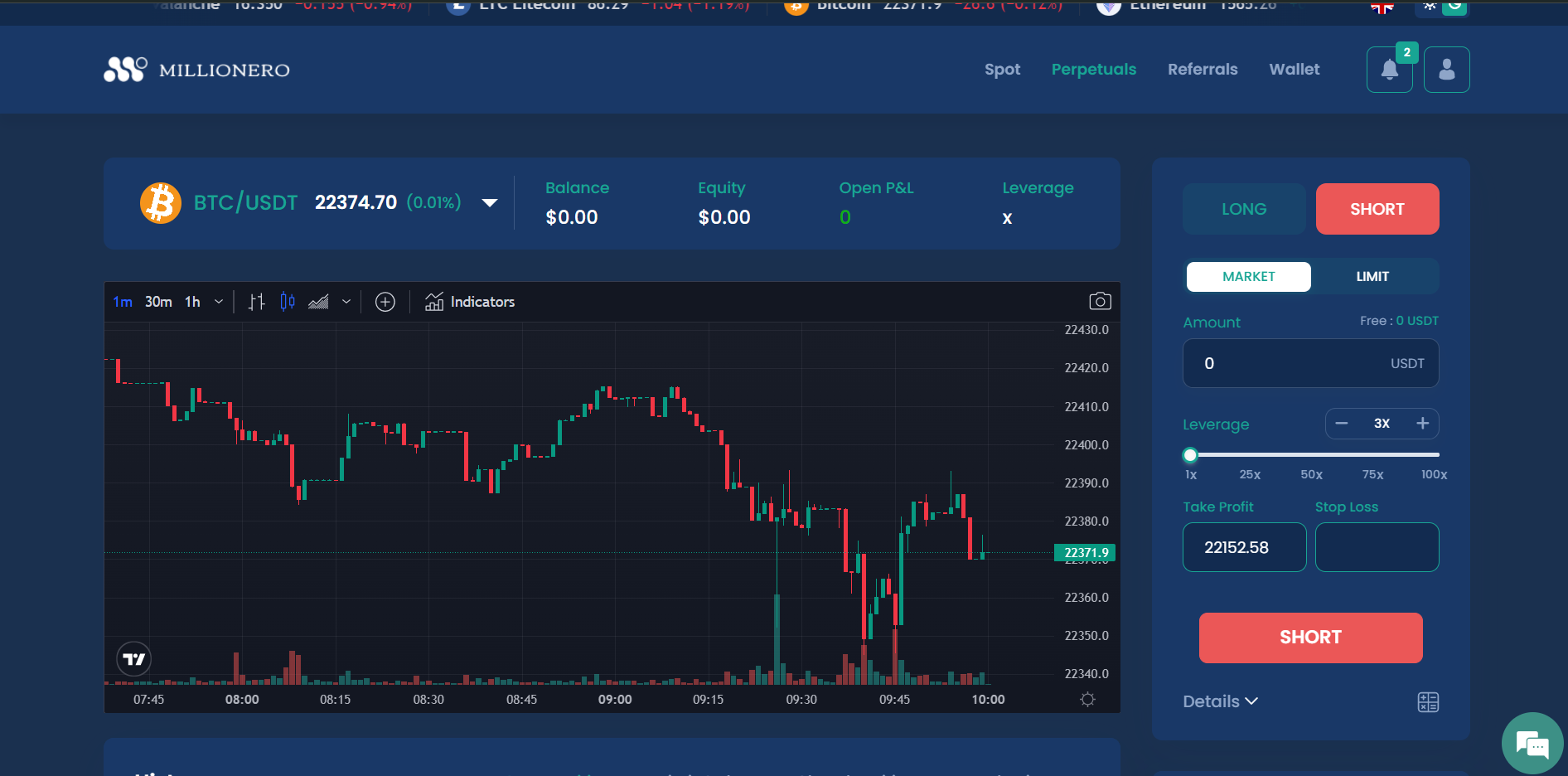 Your current wallet balance, equity, open profit and loss, and leverage used is displayed with a price chart for your chosen crypto trading pair within the timeframe you have selected. Placing the order is quite easy, and with the Millionero Perpetual Max feature, you're able to use your funds as collateral to claim a position up to 100x of your initial deposit. This is called leveraging.
Millionero prompts you to start your perpetual crypto trading journey with only a 3x leverage, however, so as to minimize your risks just in case the market moves against you. So while Millionero maximizes your gains, it also teaches you to trade safely.
Millionero also allows you to use your existing crypto funds in BTC, ETH, and other supported coins when you trade in perpetuals; unlike other platforms, you do not need to sell them to turn them into stablecoins like USDT before making a perpetuals trade!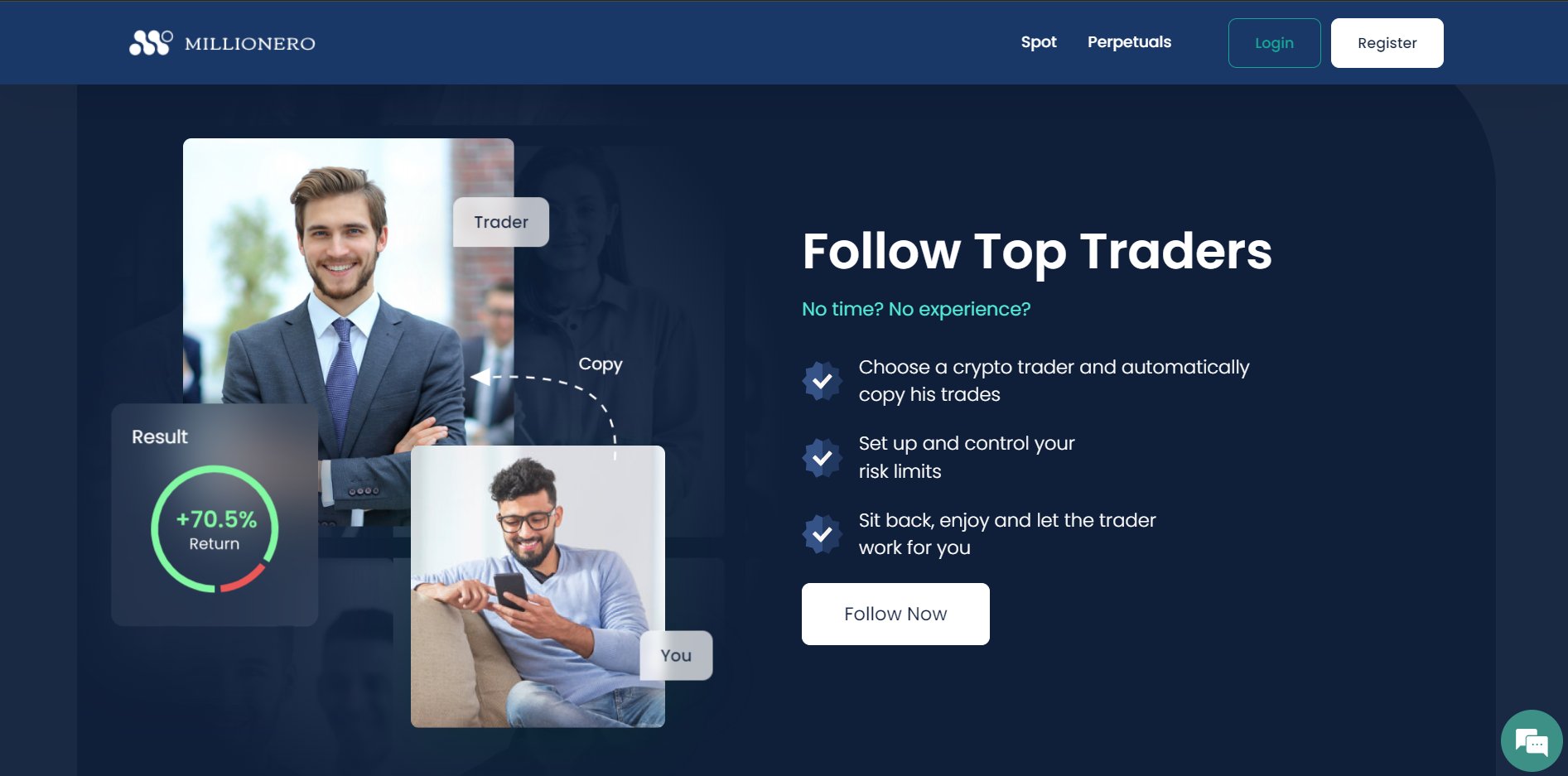 With this feature, Millionero allows you to learn crypto trading from a trader of your choice, whose trades you look up to. All you need to do to take advantage of the Millionero copy crypto trading feature is to simply choose a top trader and automatically copy their trades. You can set up this feature and control the risk factor as per your risk appetite, and then relax as the trader you follow brings in profits for you as well.
Overall, Millionero is indeed a unique crypto exchange to help you optimize and maximize your gains even as you learn the ropes of crypto trading from fellow traders you follow! What's more, once you become a pro trader, you can earn an extra 5% of profit from each of your followers'.
Sign up on Millionero today to start earning! You can also follow the exchange on Twitter, Instagram, Facebook, and LinkedIn for latest updates.