Play-To-Earn is a form that helps players receive a certain benefit or reward when they participate in the game. NFT Gaming has become an explosive trend with the "Play to earn" model. The rapid growth of NFT game projects during this time is considered as the peak of NFT for the Game sector. Participants in the field of cryptocurrency are definitely familiar with the term NFT -the most unique and irreplaceable token which is built with the technology that encodes the smart contracts of the blockchain.
The Emergence of NFT in Gaming
These days, everyone is talking about hundreds of thousands and millions of dollars worth of NFT deals. With the help of NFT, you can sell almost any virtual object — images, music, texts, 3D models. But most often we are talking about objects of digital (or digitized) art. For example, on March 11, 2021, a JPG file with five thousand paintings by the artist Beeple glued together was auctioned off for $ 69.3 million in Ethereum. The college is called Everydays: The First 5000 Days. It includes all Beeple paintings over the past 13 years.
Believe it or not, there is a strong demand for digital assets. Largely thanks to gamers. Surely you are familiar with Dota 2 — a multiplayer game that has become an E-sports discipline. It allows you to buy digital property for real money. For example, one of the players bought himself a rare pink dog for $38 thousand. In the game, the dog simply brings items to the character.
With the help of NFT and blockchain, now gamers can actually own the assets they purchased in the game in the most secured way. Most of which can be sold in a peer-to-peer Marketplace. It is not exaggerating to say NFT and gaming are a perfect match, and will continue to bloom in the future. And thus, NFTLegends has been born as one of the pioneers in this new innovative combination.
The Birth of NFTLegends
NFTLegends is a Play-to-Earn cardfight game where users can collect and customize their own Legends Deck (army) to compete in PVE or PVP settings for Rewards. The game offers unique DeFi services such as LP staking and ingame activities like Daily Missions, Boss Fight, Tournaments, or Seasonal Leaderboards. Unlike traditional card games, NFTLegends provides a unique Marketplace for valuable cards trading to generate real incomes for gamers. The game will have a Fair-launch without any pre-sale tokens.
In NFTLegends, the cards feature different types of monster (dragons, knights, machines, etc) from many Races such as Dark Empire, Dragon Nation, Genesis, Paladin and many others. The goal is to defeat the opponent in one-on-one game and earn rewards in $NFL, which is the official token of NFTLegends.
How to get Cards?
There are two methods of obtaining NFTLegends cards.
Opening Booster Packs by using $NFL. There are 3 tiers of Booster Packs, each contains different percentages of getting valuable cards.
Buy/sell cards on NFTLegends Marketplace. The price of each card is determined by sellers. The higher the rarity, the more valuable it is.
Rarity of the Cards:
At launch, there are 106 types of card. The collection will continue to be updated with new cards as the game progresses.
Common (C): 48 types
Rare (R): 34 types
Super Rare(SR): 21 types
Specially Super Rare (SSR): 3 types
Details of a Card: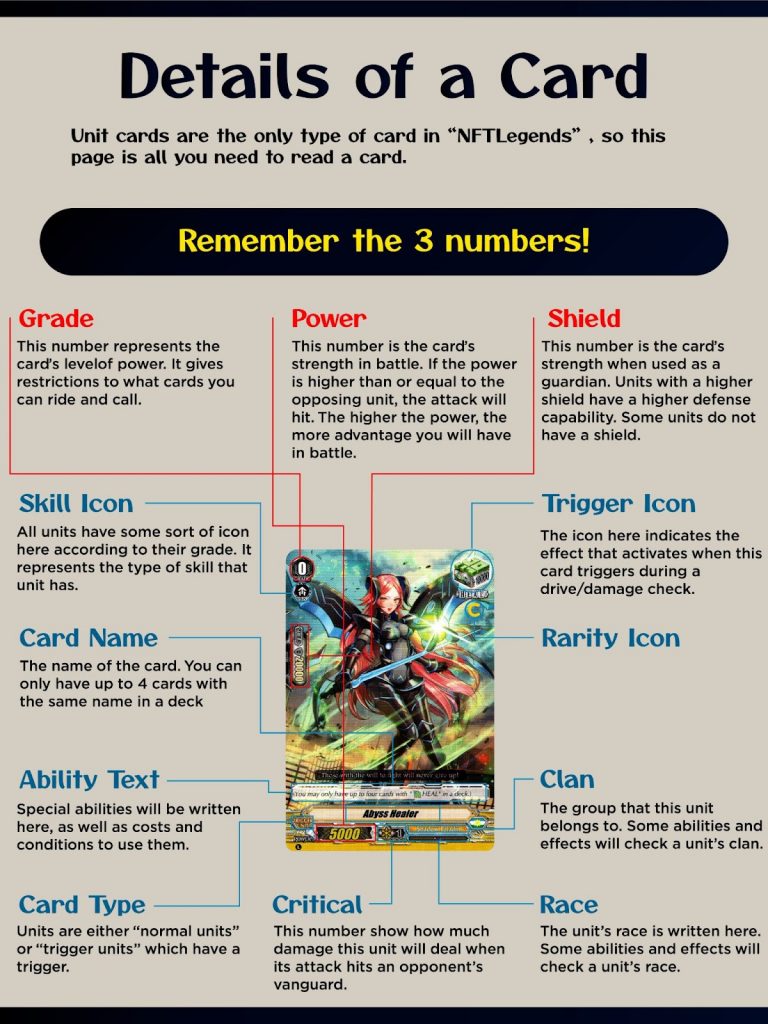 Tokenomics
$NFT
The main unit of value of the game, which has no presale/advisors/VCs tokens. The only way to get $NFL is buying from Unicrypt. The exact date & time will be announced on our official channel.
Raised fund: 250 BNB — Initial marketcap: ~$77,500
Total Supply: 10,000,000
Team: 10%, 1 year lockup, then linear vesting for 12 months.
Marketing & Partners: 10%
Ecosystem & Dev: 12.5%
Community Sale: 12.5% (Unlocked)
Reward: 50%
Liquidity: 5%
$LUCKY
$LUCKY is a boost factor to increase the odds of getting rare cards. It doesn't have a total supply or pre-minted. It can only be earned through $NFT/BNB LP farming or winning matches. Users can use $LUCKY to increase the chance of getting higher rarity cards. Used $LUCKY will be burned.
Play-to-earn
In NFTLegends, users can earn rewards for winning matches. But it also comes with penalty for losing. While stronger cards have better chance of winning, a set of skills is required to combine a balanced deck. Are you confident about your skills? If so, don't miss our Launch in August 2021!
Useful links:
Website: Click Here
Medium: Click Here
Discussion: Click Here
Channel: Click Here
Twitter: Click Here