Digital currencies such as Bitcoin and Ether may be compared in many ways to NFTs. This is due to the fact that NFTs are digital assets built on top of a blockchain network. 
This technological feature ensures that NFTs may be swiftly, safely, and affordably transferred from wallet to wallet. NFT rookies know that rare digital assets are the most valued because of their exclusivity. 
For the benefit of investors, we've put together a list of the best NFT projects currently on the market.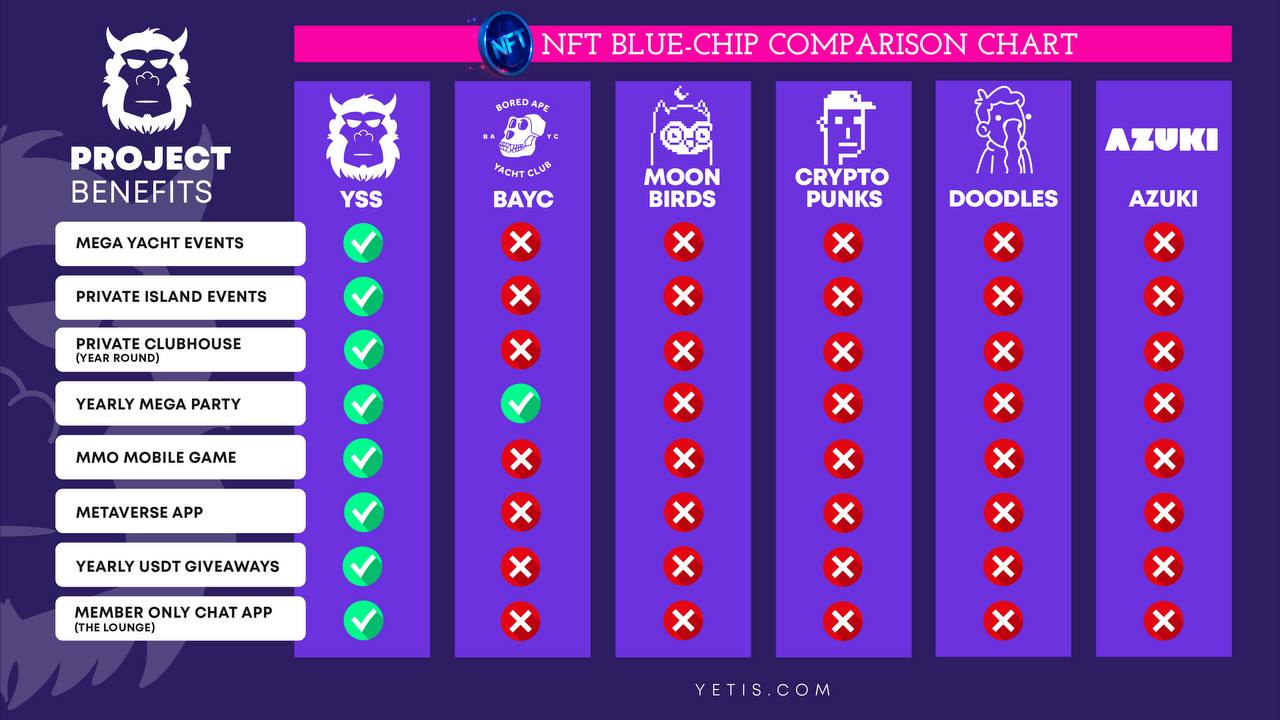 Yeti Secret Society
You might become a member of the Yeti Secret Society if you purchased an NFT to contribute to the project's funding. This collection's creators believe that its originality is what will make it a hit. 
On Twitter and Discord, it appears that the team has unveiled a pre-minting opportunity. This is a once-in-a-lifetime chance that savvy investors will seize. 
The project's "Club" is probably going to appeal to VIP investors. Anyone who has a Yeti NFT can utilize this service at any time. 
The rarity of NFTs has a significant bearing on whether or not you should invest in them. As a result of its uniqueness and differentiation, the team behind Yeti Secret Society believes that its features will gain market momentum in the coming months.
With Sapphire Studio, Yeti Secret Society is pleased to have one of the greatest MMO developers in the world on board. The project is anticipated to receive an MMO game and a Metaverse architecture as a result of this partnership. 
The project's 600-guest boat voyage to Monaco has already been reserved. Members and celebrities enjoy a private island at one of the club's annual festivities. 
Everyone in the NFT community recognizes this group of innovators from their previous work on several noteworthy projects.
Lazy Lions
NFTs with more than 160 distinct attributes, including eyes, mane, attire, and headgear are part of the Lazy Lions NFT collection. The project is swiftly rising to prominence as an Ethereum-based NFT. 
Like the Bored Ape Yacht Club and the CryptoPunks, the Lazy Lions have swiftly risen to the top of the NFT collections. 
While most of us were confined to our homes, four friends from Sydney were taking a look at the NFT market. The Assyrian lion, a symbol of regal grandeur and a part of the creators' cultural background, served as inspiration for the project, which premiered in August 2021. 
Because of their status as the monarchs of the jungle, lions command respect across the world. The team enlisted the help of artists to create each one-of-a-kind sculpture. 
A strong community and charitable acts may help you achieve your goals, as demonstrated by the Lazy Lions NFT program. As a way to emphasize everyone's equal status, members of the group nickname each other "Kings and Queens." It's clear that this tradition is a nod to the importance of lions in the forest. 
There is also a community fund put up by the individuals behind the project in order to help users maximize their time and take on new tasks.
Zed Run
Digital racehorses may be owned, bred, and raced in Zed Run whenever you choose. 
Utilizing cutting-edge technology, such as blockchain and cryptocurrencies can provide the same financial rewards as owning a thoroughbred racehorse in reality. 
Zed Run competitions are critical for the sport's development. You may show off your horse's abilities in competitions that anybody can participate in and that typically feature large financial rewards. 
A more valuable horse may be sold or bred with ease using the Zed auction system. Each racehorse's lineage and DNA are statistically unique. It's also important to note that each horse's performance on the racetrack is unique. 
Racing and breeding become increasingly common as your racehorse grows better. 
Because you may acquire horses from other players instead of breeding your own, this game does not need you to do so. Consider a horse's lineage and genotype before purchasing a racer. 
A horse's particular abilities can be attributed in part to its upbringing and genetics. A horse's pedigree is more precious and unusual if obtaining it is difficult and time-consuming.
Cereal Club NFT
Cereal Club NFT is a well-known online collection of cereal-themed digital art. It is only accessible to members who have been granted privileged access. 
This entire collection has a distinct look and feel. The Cereal Club will be elevated to a new level with the use of NFTs. 
To further its charitable efforts, Cereal Club is donating a part of its income. The Cereal Club will donate the funds to a deserving cause. 
Additionally, these pieces of art can be sold for money in the future. Cereal Club NFT's creators have a clear vision for the brand's future. Step-by-step, the strategy includes more elements than the previous one. 
The company aims to create a "decentralized autonomous organization," or DAO, in addition to these NFTs. Web3 projects will be possible in the future thanks to this effort, its founders believe.