According to data by Coinmarketcap.com, there are over 5000+ cryptocurrency assets having a cumulative market of more than 40,960 pairs which are tradeable across more than 300+ cryptocurrency exchanges. So, if you're new to the trading or cryptocurrency industry you may be having one common question in your mind: Which Cryptocurrency exchange to choose for trading? Well, In today's topic, we will be writing an in-depth VDollar.io review for your convenience.
The simple answer is 'two reasons: Liquidity and Jurisdiction'. This VDollar review will explore how to use VDollar exchange, its native asset – VDollar (VDUST), and VDollar fees.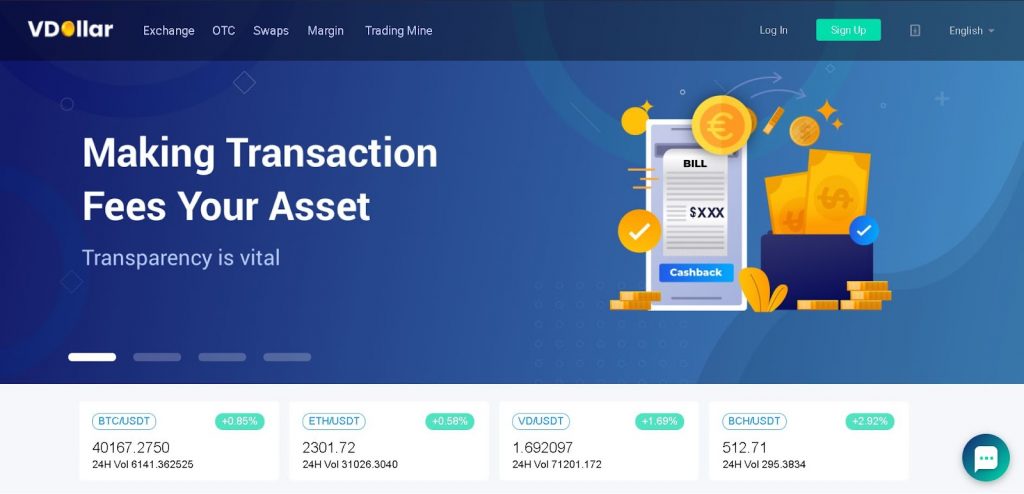 What is VDollar Exchange?
VDollar cryptocurrencies contract exchange (Vdollar.io) is incorporated in the United States. With its draconic regulation on crypto, this should be interpreted as the recognition of the highest standards of regulatory compliance met by VDollar.
The platform is operated by VDollar Exchange Limited. This firm is properly registered and incorporated in Colorado. Its activity is carried out under the Money Services Business (MSB) license issued by the U.S. Financial Crimes Enforcement Network.
Additionally, it obtained a license of The Accounting and Corporate Regulatory Authority which is a statutory board under the Ministry of Finance of the Singapore Government.
From a big picture perspective, VDollar's ecosystem comprises three business segments: a digital currency exchange (vdollar.io), and ultra-circular digital currency wallet (vdollarwallet.com), and a unique 'Trade Mining' module (vdollar.org).
To understand it better lets understand "WHAT ARE CRYPTO CONTRACTS EXCHANGE"?
Crypto contracts exchanges are digital platforms (websites and applications) where the contracts for differences on Bitcoin (BTC), Ethereum (ETH), and other cryptocurrencies can be traded. The exchanges are responsible for 'know-your-customer/anti-money-laundering' practices, due diligence policy and fair payouts to clients.
Crypto contracts exchanges offer their clients to trade contracts with leverage. It means that traders can add borrowed funds to their positions. Say, when leverage is set at 5x, a 10-percent price move (in both directions), results in a 50% gain or loss.
For buying/selling contracts, exchanges charge users with small fees proportionally to the size of the opened position.
User Experience
The user interface is a multi-lingual platform and can be accessed in English & Chinese, languages. The language preference can be changed from the drop-down menu located at the top-right of the page.
The VDollar exchange isn't complicated as it has a simple landing page from which users can access the trading platform, the IEO Launchpad (Yet to Launch), VDollar wallet and Mining, It also features a support page containing help topics compiled as FAQs that could guide users on how to resolve common problems experienced while using the exchange.
For more complicated problems not covered by the FAQs, users can contact the general support by either creating an offline ticket or contacting the support team either through the official email or via Telegram messenger.
Trading on VDollar Exchange
Step-by-Step Guide
Step 1: Visit www.vdollar.io
Step 2: Once you are on the landing page of Vdollar Exchange, click on Signup on the top right corner (as shown in the screenshot below)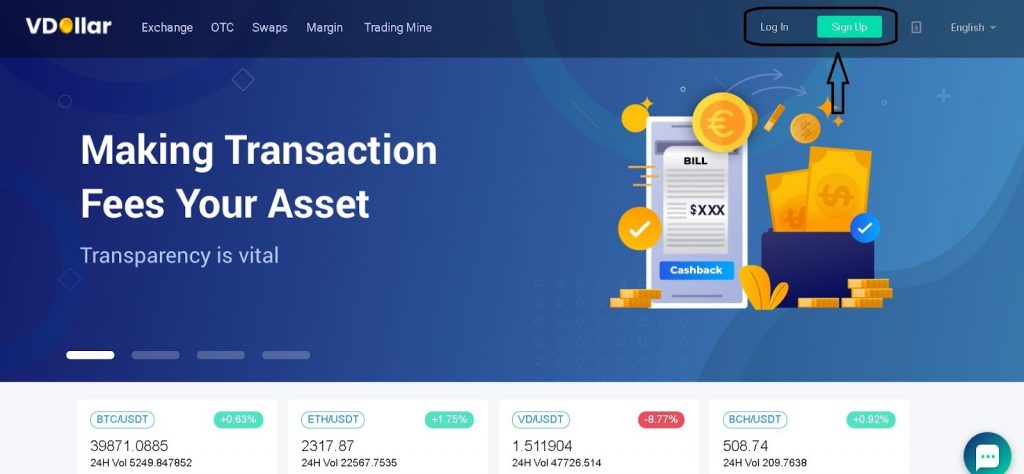 After clicking on "SIGN UP" you will be redirected to a sign up page where you can either signup using your "Phone Number" or "Email ID"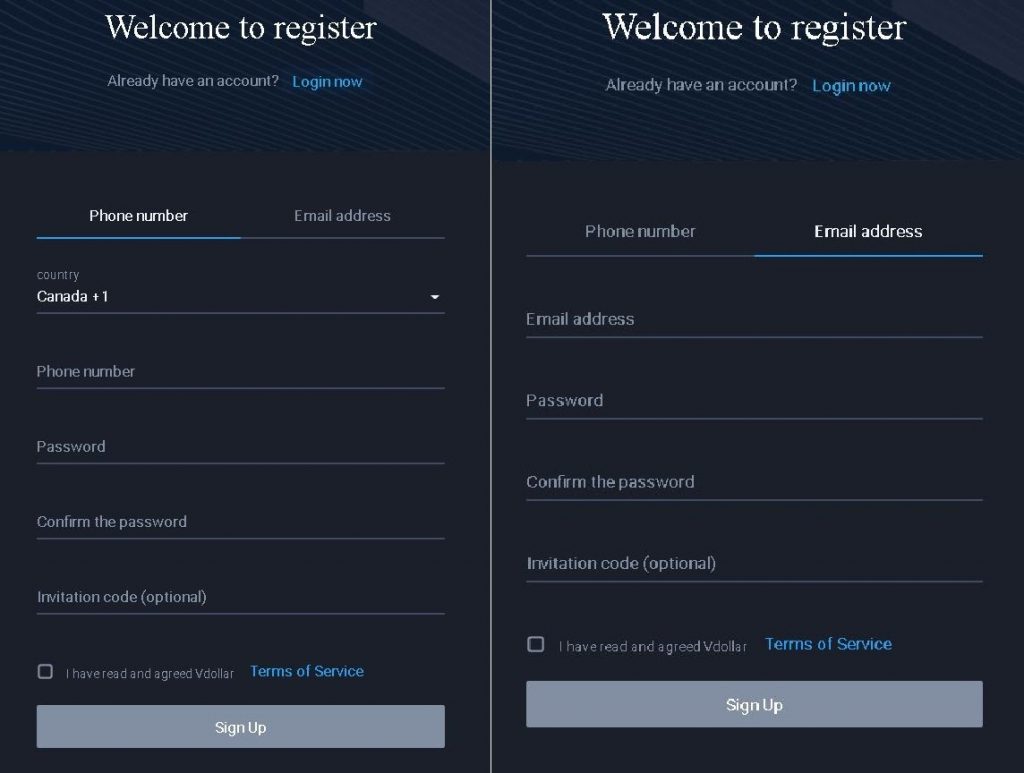 Step 3: After Signing up (meaning verifying your email address or phone number), you simply need to login (as shown in the Step 1)
Step 4: After Logging in, navigate to Exchange on the top left corner (as shown in the screenshot below)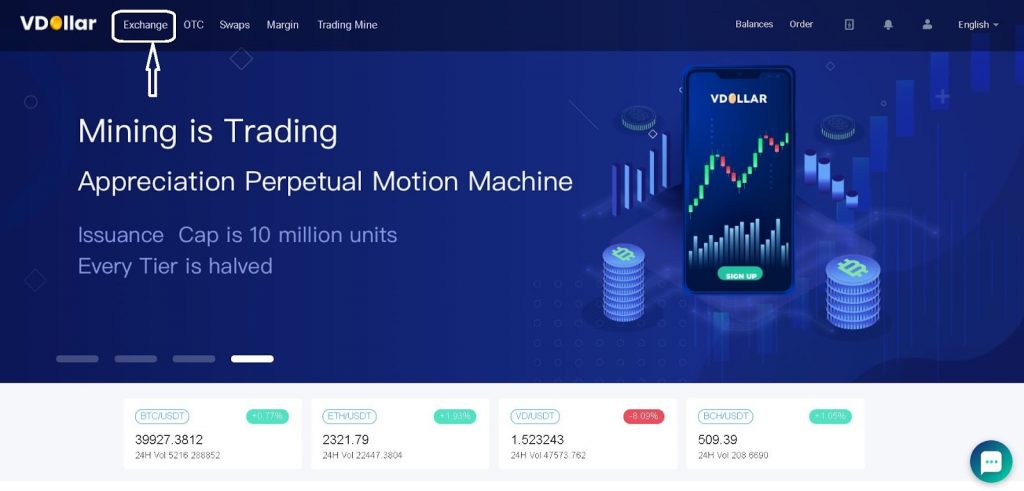 You will be redirected to the trading screen of Vdollar Exchange (as shown in the screenshot below)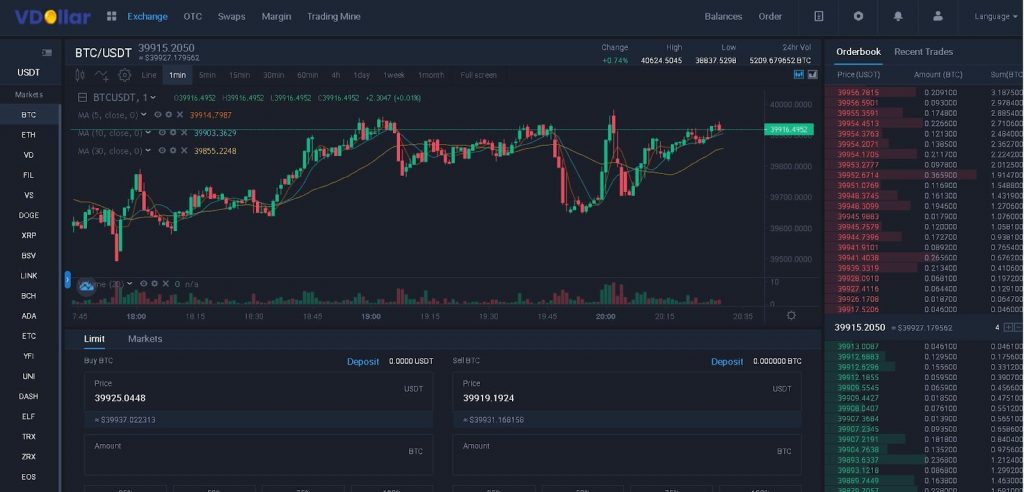 Volla, the user interface is simple and like any other exchange. Any one from beginner or pro trader can easily interact and trade on this platform.
Security features
Various VDollar reviews report that the platform uses an Advanced Encryption Standard (AES-256) algorithm to secure its wallets. More so, the databases holding account passwords are said to be encrypted with Salted SHA-256.
For the security of funds, the platform holds the exchange private keys – being a centralized exchange, and holds all users' funds either in a hot or multi-sig cold wallet accessible by the team. Funds stored on exchanges puts users' assets in the cross-hairs of malicious actors such as hackers, as cryptocurrency exchanges are oftentimes their targets.
Users can further protect their accounts and prevent third-party access by setting up email and phone verifications, as well as a google app authenticator.
VDollar Exchange Fees
Unlike many other crypto exchanges, VDollar does not have any fee for deposits made on VDollar exchange. However, a small or standard fee is applicable on withdrawal and trading. As compared with many other tier 1 exchanges such as Binance, KuCoin, Okex etc, the fee is quite low. Also, 100% of the transaction fees are put into the mining pool as the user's underlying asset. In fact, the user can earn reward points and Vdust with their asset holdings. To know full details of VDollar exchange fees click here.
Exchange/Margin Transaction fee rates:
Swaps transaction fee rates:
​​​​​​​Makers 0.06%
Takers 0.04%
What Cryptocurrencies and Fiats are supported at VDollar Exchange?
Cryptocurrencies Supported: BTC, ETH, VD, FIL, DOGE, XRP, BSV, ZRX, DASH, EOS, ZIL, LTC, LINK, BCH, ADA, ETC, YFI, UNI, ELF, TRX, ZRX, SNT, OMG, and HT
Fiat Supported: EUR, USD, CNY, HKD, KRW, etc.
What Makes it Different from BNB
VDollar challenges other market-leading platforms, especially Binance, with a self-serving mechanism wherein trading on the platform will support its native token's value. This not only means that a healthy trading ecosystem will translate into higher returns for users but also will protect the crypto from market downtrends.
| | | |
| --- | --- | --- |
| Platform token | VDollar | BNB |
| Issuance Cap | 10 Million | 200 Million |
| 100% of the transaction fee support platform token | Yes | No |
| Diminishing output | Yes | No |
| Transparent % Verifiable | Yes | No |
Summary
VDollar, a novel cryptocurrency contracts trading ecosystem, is offering a cutting-edge derivatives trading experience for traders with various levels of expertise.
Its mechanism includes universal, leveraged and OTC modules; the latter supports crypto-to-fiat deals. VDollar supports a large suite of assets including staking coins, DeFi coins, crypto majors and even one semi-memetic 'dog-coin'.
VDollar's native token VD is a backbone of the project's tokenomics. It serves as a method of motivation for social media promotions, referral campaigns, and reflects the value of the unique USDT Reserve Pool – the sum of all transactional fees collected by the exchange.