Many mothers choose to breastfeed for several reasons. But they might face some issues along the way. Low milk supply is one of the leading reasons why nursing mothers either stop breastfeeding completely or at least start supplementing with formula. There's nothing too wrong with these practices. But most of these mothers would have liked to continue their exclusive breastfeeding. 
If you're not in a mood to compromise due to low breast milk production, you may not have to go down that path. Taking medication is not everyone's preferred choice either. So, here are some natural means of increasing that supply: 
Breastfeed Often
Don't let the low milk supply discourage you from breastfeeding your baby. The suckling motion will release the right hormones for triggering higher milk production. You want to get to the let-down reflex, which is when the breast muscles contract and start moving the milk in the ducts.
This process doesn't start as soon as the baby starts suckling but it revs up a little bit later. Try to breastfeed at least 8 times a day or up to a dozen times if possible.
Do Not Be Afraid of Pumping 
If you pump between nursing sessions, this action will also help to enhance milk production. A handy tip is to warm or massage your breast before pumping (whether you're using an electric pump or a manual one). This action will help the pumping to go easier and produce better results. 
Pumping can also help to maintain or increase milk production if the baby misses a feeding or there is some milk left from a session. 
Utilize Both Sides
It can be tempting to keep your baby feeding from whichever side is most comfortable. However, feeding from both sides is essential for maintaining milk production and also helping your breasts stay the same shape.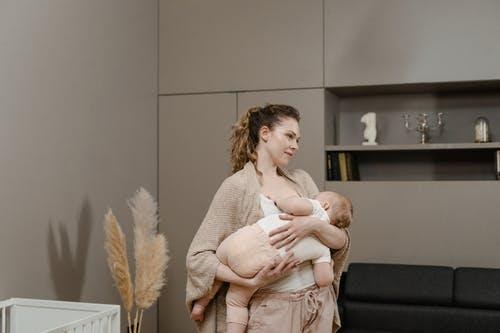 The trick here is to feed the baby from one side until their sucking slows down or stops. Then, offer the other breast. This stimulation on both sides can also help to increase your supply.
The same reasoning applies when you're pumping. If your pump only caters to one breast at a time, make sure you pump equally long on both sides. If possible, get a pump that simultaneously works on both sides. This practice can increase the production of milk as well as its fat content.  
Make or Buy Lactation Cookies
Many breastfeeding mothers swear by lactation cookies, saying that they have helped to increase their milk supply. If you're looking up how to increase milk production, try finding lactation cookies in nearby stores. If you don't find them there, you'll probably be able to find them online. 
There isn't much research about lactation cookies and their results. But many of their ingredients are linked to enhanced milk production. Some of them are flaxseed meal, yeast, wheat germ, and whole oats. 
You can also make lactation cookies at home. Search for a simple recipe online and see if it has good reviews. If you're satisfied, go ahead and try it. Alternatively, you can see if a local baker or an online home chef will make them for you. 
The Takeaway
The length of time that it will take to increase milk supply depends on several factors. If the supply was very low before starting the natural methods, it will take longer to increase. The reason for low milk production (such as stress, low nutrition, or poor latching) also counts. At the end of the day, it always helps to relax and not be so hard on yourself. Remember that positivity is the key.