Generally, the present disclosure is directed to determining the validity of a chain within a blockchain system. In particular, in some implementations, the systems and methods of the present disclosure can include or otherwise leverage one or more machine-learned models to predict the likelihood that a block within a blockchain system will be verified based on characteristics of the block.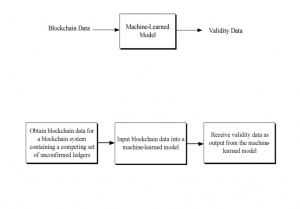 A blockchain database is a distributed ledger comprising transactions and blocks. Blocks hold batches of valid transactions. Each block includes the hash of the prior block in the blockchain, linking the two. The linked blocks form a chain. This iterative process confirms the integrity of the previous block across the entire chain. In this manner, blockchain systems can provide distributed consensus that a given data set is a "source of truth", making the data set very difficult to corrupt or alter after the fact. For example, blockchain systems can be used to
confidently store sensitive data including medical records, financial ledgers, identity systems,etc.
Often these systems involve a "currency" that is created in exchange for the computational power that "miners" use to verify the blocks of data and incorporate them onto the end of the ledger. The output of these tokens is the financial incentive for transaction verifiers to use their computing power to verify the ledger. Many blockchain systems utilize a "proof-of stake" model wherein token are "staked" or wagered as a way to provide an economic incentive for the blockchain to agree on a single ledger history. Blockchain systems need a way to decide on which of a possibly-competing set of ledgers should be chosen as the truthful ledger, agreed on by the network, and used as the basis for more data that needs to be added, robust to attacks that try to add incorrect information.
What is needed is a method for predicting which chain will eventually be determined to be valid to enable accurate staking.