Bitcoin continues to dominate over most altcoins. Today, Bitcoin Dominance has reached yet another high, hitting 67% of coin market cap. This could mean anything but I see two possible ways to interpret such dominance.
There is a clear lack of confidence in most altcoins, and this tendency might continue
History shows, that prior to the huge bull run of alts, Bitcoins has already established a clear trend up.
Tech analysis shows, that 67% level is not only a psychological level, but also a technical resistance for BTC Dominance (BTC.D). Its 161.8% Fibonacci retracement of the previous corrective wave down. At the same time BTC.D has reached the mid trendline of the long term ascending channel, thus providing aditional resistance to further grown.
If BTC will not be able to overcome current top at 67%, this could mean that Altcoins are reversing! So, perhaps we'll see a strong growth for alts, providing a good opportunity to earn $ as well as increase the BTC balance.
Now lets have a look at Steem.
According to Fibonacci retracement level, couple of weeks ago, price has reached 2920 satoshis support, located at 161.8% support. Currently price is moving below that level, and might test the downtrend trendline. But it is very important to watch where STEEM/BTC price will be at the end of this week. If Weekly Close will be above 2920 satoshis, it certainly can start reversing to the upside. Although weekly close below might lead to further Steem decline, while BTC dominance is likely to continue.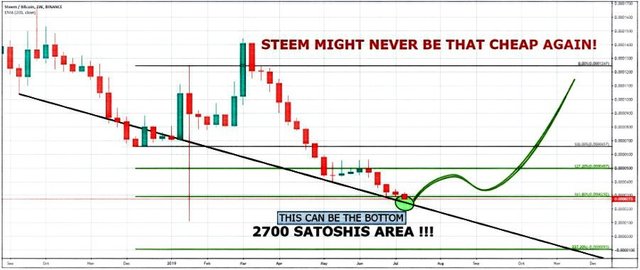 All in all, its a very interesting timing for Alcoins in general and STEEM in particular. Whether its a great buying opportunity, only time will tell.