For such a popular interest, cameras that are designed for filmmaking do not come cheap. This makes it difficult for independent filmmakers to make content to the quality that they would want. Thankfully, there are some cameras that are ideal for independent filmmaking at an affordable price.
Particularly if you are forking out for residential filming locations, props, or costumes, this leaves little money to spend on your camera. Therefore, you will need a camera that performs well at an affordable price.
Panasonic Lumix GH4
The Panasonic Lumix GH4 is mirrorless with high speeds and autofocus features. It contains 16.05 megapixels with 4K 24p cinematic video, with 49 high-speed autofocusing. 
Similarly, the 4K video recording has a high resolution of 8.8 megapixels that allows for just under thirty minutes of recording time. Lastly, the shutter feature delivers around 200,000 release times and the camera itself is compatible with memory cards, allowing for greater storage.
Sony Alpha a6500
The Sony Alpha a6500 is a mirrorless camera with a 24.2-megapixel sensor and 425 points to autofocus. This camera has a 4D focus and can focus on points as quickly as 0.05 seconds. Furthermore, it has a high-speed uninterrupted shooting mode with an auto-exposure feature that is adaptable to what needs to be shot. 
Additionally, this camera has a high contrast resolution and a 4K recording feature. Conveniently, you can connect this camera to your other devices via Wi-Fi, allowing for seamless control. To conclude, the 425 focal plane enables high visual performances and rapid responses.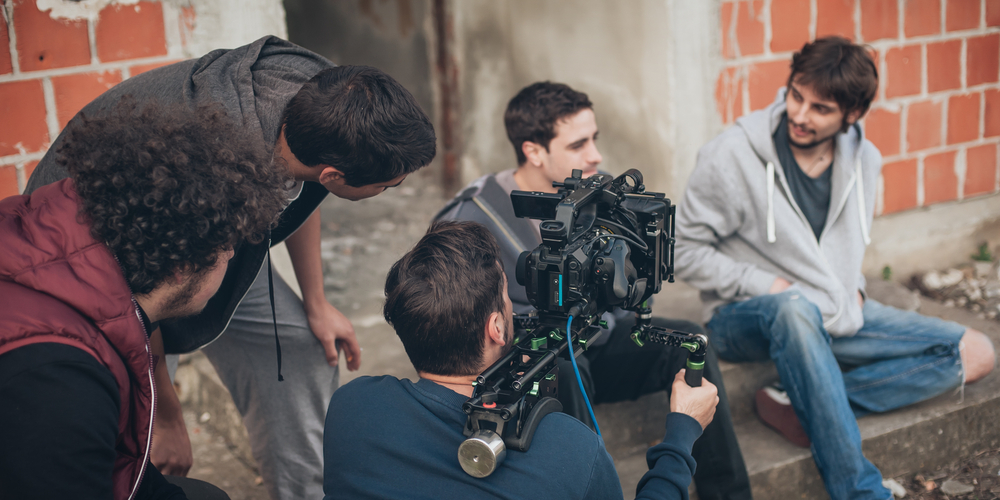 Olympus OM-D E-M1 Mark II
The Olympus OM-D E-M1 Mark II is extremely adaptable as it has an interchangeable lens. As well as adaptable, it is an aesthetically pleasing camera with a vintage seventies' appearance, accompanied by a brown leather bag. The camera itself has a touchscreen and is light to carry, making it extremely convenient. It has 16.1-megapixels, an 8.5 fps, and a focus of 81. 
Similarly, it boasts a range of effects to cater to your editing needs. Furthermore, its 5-axis feature guarantees flawless shots with a video quality of 1080/60p from the 4K capture. Much like the Sony Alpha, the Olympus is compatible with Wi-Fi, enabling smooth transmitting of files.
Fujifilm X-H1
The Fujifilm X-H1 is one of the most sought-after cameras in the affordable filmmaking market. It has a 24-megapixel sensor with stabilization components and ensures the safety of handling with grips and large buttons. In addition to these features, it has the 3.69-dot OLED viewfinder and is also compatible with Bluetooth and Wi-Fi. 
This camera has a 4K mode that captures roughly 200mbps and has a touch sensitivity rear LCD containing tilts of two-axis. Additionally, it has an anti-flicker feature that is beneficial to filming in artificial light. Like the Panasonic, the Fujifilm runs for just under half an hour and includes features such as sharpness adaption and noise reduction. 
Canon EOS 70D
The Canon EOS 70D has a 20.2MP APS-C CMOS sensor and a DIGIC 5+ image processor. There is a 19-point cross-type AF system and 7fps shooting. Similarly, better imaging is ensured by the ISO 100 to 12800 which is expandable to 25600. 
This camera is ideal for a quick focus due to its dual-pixel CMOS AF. Furthermore, it has a built-in Speedlite transmitter, flash, and Wi-Fi connectivity. Similarly, videos can be shot at 30,25,24 fps, and 720 at 60,50 fps, in addition to HD video. Usefully, this camera has GPS compatibility and an external microphone or stereo port and corresponds with the majority of lenses and memory cards.